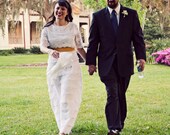 Multi layers floor length wedding dress.
Beautiful wedding dress made to order. The dress is made of 16 tiers of beautiful scalloped white lace.
This is a dress made to your specific measurements.
Half the total cost of the dress is required before starting the confection of the dress and the remaining payment when the dress is finished.
The dress will be ready in two weeks.
...
Click Here to Visit My Etsy Shop!