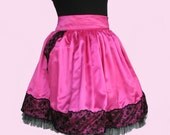 A few days ago I had a dream with a character who wore a skirt very similar to this one. That was enough for me, I felt challenged and I decided to make part of my dream a reality.
This skirt is inspired by the Gothic Lolita fashion style. It has two layers of hot pink satin with a gathered waistband. The top layer is adorned with black French lace and the layer below is adorned with black tulle petticoat givi...
Click Here to Visit My Etsy Shop!