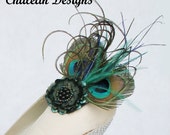 Glamorous look, perfect for you wedding day. Very unique shoe clips adorned with peacock feathers and sequined flowers. Whimsical and show stoppers, these shoe clips look great when clipped on the front or the side of your shoes.
Perfect for weddings, formal event, etc.
The will be ship to you in a very nice box with a matching satin ribbon. For the packaging I use old fashion magazine pages to make a ...
Click Here to Visit My Etsy Shop!